Before we can talk about what happened at Waco, we have to cover a bit of what happened before Waco.
As most of y'all know Sturgis kicked my ass. Not only that it really did a number on my bike. So I spent a great deal of the time before Waco getting the bike back together and back into race shape.
One of the issues we had to solve for in the 11th hour was not one we realized had occurred in Sturgis. Apparently, when the battery and box exploded we also cracked the oil tank. This was not discovered until we did an oil change and test ran the bike two days before we were leaving. But as soon as the bike would get up to temp it would squirt a heavy stream of oil from both sides of the tank at the welds. Our suspicion is that the impact stressed the welds and then between the bouncing around in the trailer and the temperature changes those cracks opened up allowing the fresh oil to make its way out. Long story short it was a scramble but we got it fixed the night before I left for the race and we were good to go.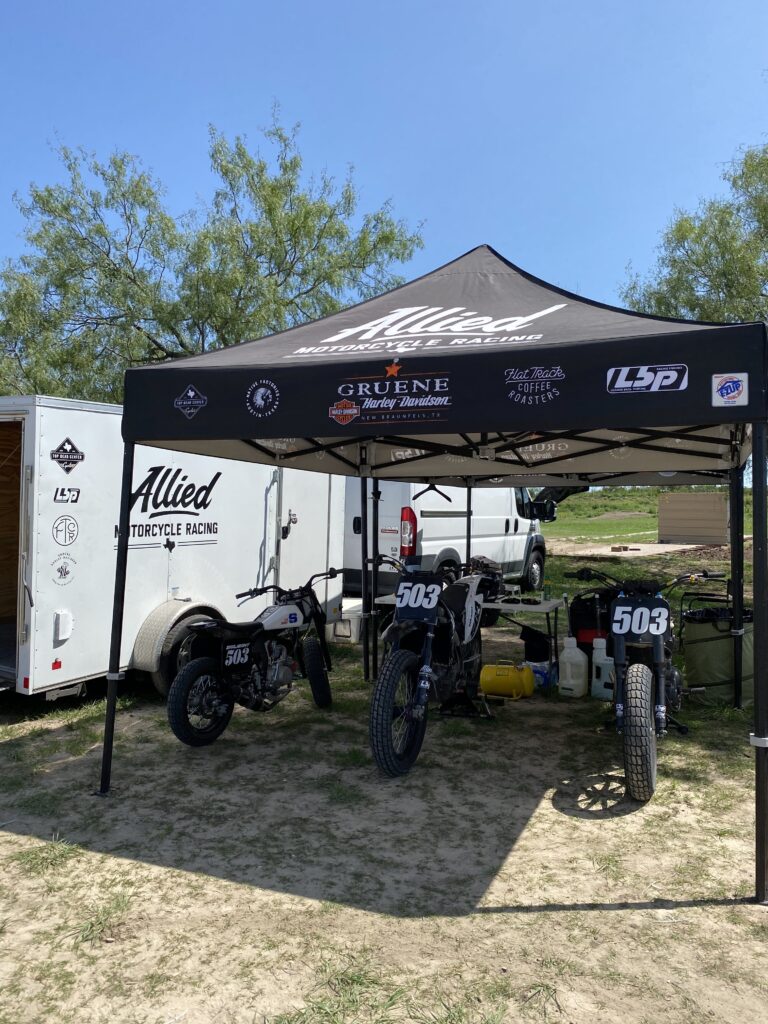 After all the chaos I had been through in Sturgis and leading up to this race I wanted to approach this one a bit differently. It no secret that Waco is one of my favorite tracks. It's a fast track that genearlly grooves up really well, and it caters to my style. It is relatively close to home, its where I raced my first race, and where I had my biggest crash. But it's just a great track with good people. Which was perfect, I had to get back to just hanging out with good people and riding. No stress, just go out there and have fun. So I showed up the night before, set up my pit. Hung out with friends, watched the AFT race, had some good food, and chilled.
Waco 1/2 Mile – Day One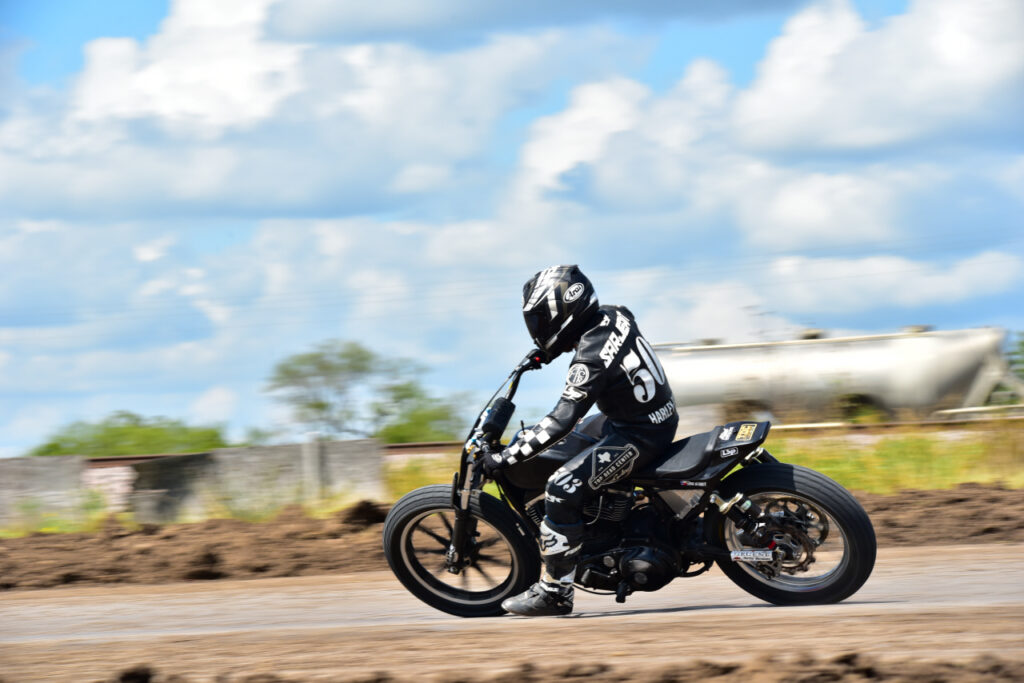 I woke up to find the crew still working on the track, which is not unusual, especially considering we had just gotten a bunch of rain that week. So I just slow-rolled my morning. I had breakfast and enjoyed my Flat Track Coffee as I prepared the bikes. Checking tire pressures, fueling up, and doing my normal once over.
When the time came to roll out for practice I was ready. The track was not ideal but it was rideable and the new track layout looked promising. So I went out and just felt it out, found some lines that I liked and got comfortable. No one wins practice and I had nothing to prove. Just find your groove.
I was also racing the 450 again for the first time since race 2 in Sturgis. I had the same problem in Sturgis but the bike just beats me up. I have not been able to put much focus on dialing this bike in like I have the Sportster so it's to be expected to some extent but lately its been a whole lot more obvious. I ended up somewhere around third or fourth in the heat, which I was happy with considering how hard the bike was to ride.
Leading up to my Hooligan heat people were talking about the track, discussing the "issues" and finding things to complain about. But to be honest, I didn't care, I wasn't participating. It was good enough for me and I didn't want to put stock into anything other than just going out and riding. So when I pulled up to the line for the Hooligan heat I was finally calm, not a worry in the world, and it worked. I got a great start, taking the holeshot and running away from the pack to take the heat win.
When the main events rolled around I was ready, still calm, still focused, and just having a good time. I went out for my 450 main and got the start. Was off to a good first lap but just went backward from there. Once again I was just fighting the bike trying to get it through the turns. I ended up 4th and I was happy with that. My focus was on the Hooligan class and I was shooting for no stress.
The Hooligan main was a good size class with two rows of guys lined up ready to battle it out, and I found myself (with the second pick) right on the groove and cool as a cucumber. As the field lined up, I took a breath, closed my shield, and clicked the bike into gear. I was ready, and as soon as the green flag lifted I took off. I was first into turn one and already in my race gear, the holeshot was mine and the race was mine to lose. But that wasn't going to happen today. I just put my head down and started clicking off laps.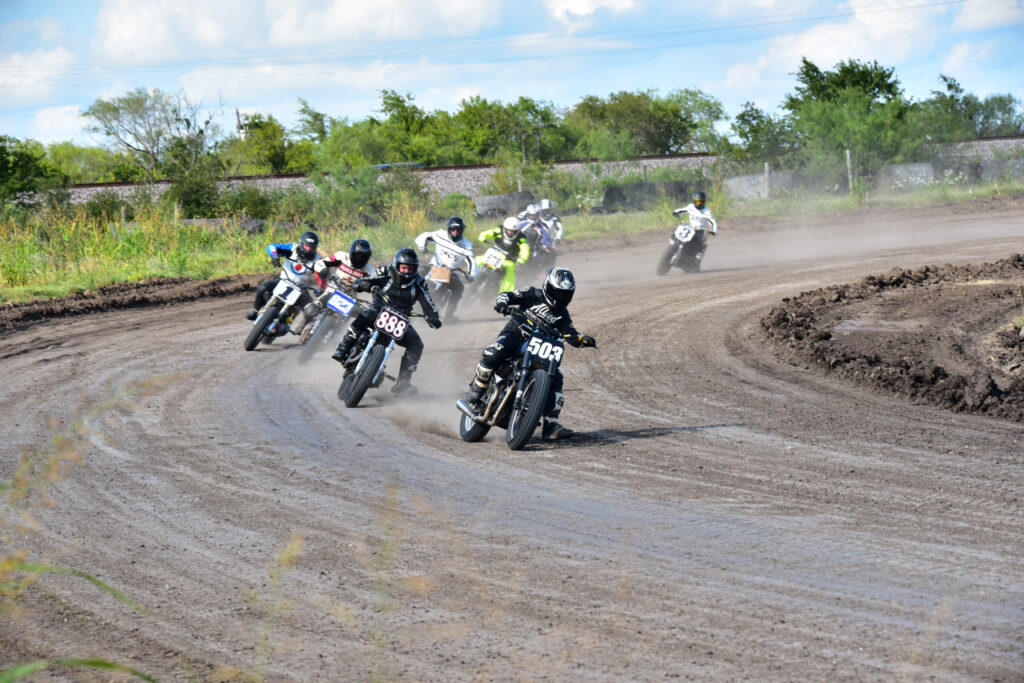 I came around on the third lap and I could see people on the side of the track signaling that I had a huge gap. This was a good feeling, and knowing I had a gap I started to pace myself a bit. I didn't want to push too hard and throw it away and they were signaling I had a gap so I opted to use that breathing room and just run a decent pace.
What I didn't know was that Garrett was coming, and he was coming fast. When he saw me let up ever so slightly he turned it on. As I came around for the last lap I could see folks in the crowd jumping up and down, screaming and waving towards the finish. At the time I thought they were excited for me to win. Ha! What I didn't know until I crossed the line was that Garrett had caught me going into turn one on the last lap and was in my pocket the whole way around the track. We crossed the line 1 – 2 with him about a quarter of a wheel behind me.
Lesson learned. Don't listen to the crowd, and never let up no matter how big a gap you have. You never know what might happen.
Waco 1/2 Mile – Day 2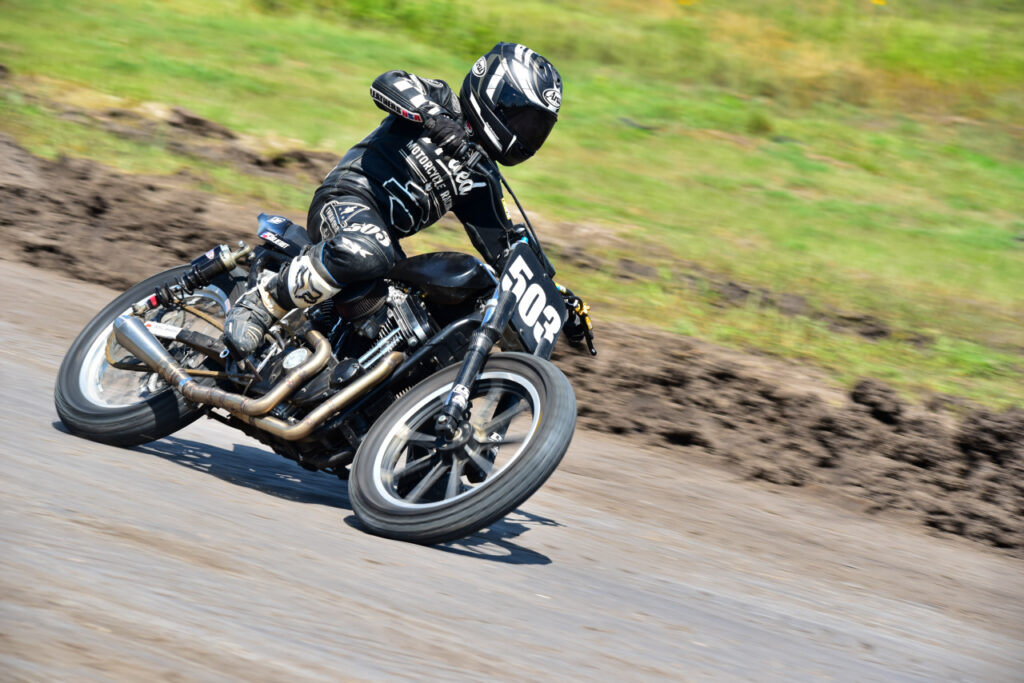 For the second day of the weekend, the track crew did some INCREDIBLE work and got the track fully back to what Waco should be. The track was super wide and had a massive groove. Practice was a blast, the track rode like it was a road racecourse. You could drive it in hard and power off the turns pretty well. So I went into the day yet again with some confidence. But my goals had not changed, just go out there and ride, enjoy myself.
I lined up for the heat, again calm and ready to compete. I got a great jump off the start and today I wasn't going to let up. I put my head down and ran away with the heat win, wire to wire creating and holding a pretty sizeable gap over second place.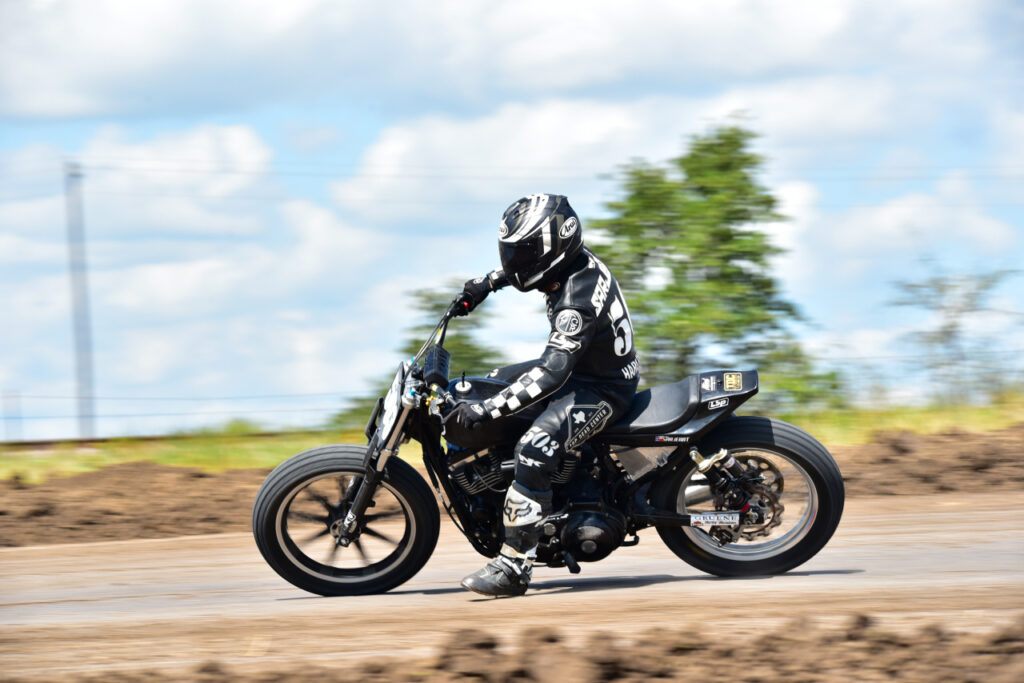 For the 450 heat I got the start and again just went backward, fighting the bike all the way around the track.
In the Hooligan main event again we had a pretty decent sized group and again I had the privilege of choosing my spot on the line second. I chose to line up to the outside and on the groove, hoping I could hold the throttle on a bit longer than the riders to the inside of me. We all lined up and the flag waved, and for some reason after a weekend of great starts I spun. It was still a good reaction time, but not the launch I had hoped for. So I went into the first turn in about 3rd or 4th.
I was behind Carlos Bumwine and of course, Garrett. Coming around turn 1 Garrett found a way around Carlos and I knew I had to get by or he was going to get away. So as we came through turn two I started to roll on early (reminder I went off the back of the track and into the woods, full throttle, last year trying this pass) and was able to hold it together and get the drive through two to get around Carlos on the back straight away. Garrett was not yet too far off so I just put my head down and closed the gap by the time we hit turn one on lap two.
Garrett was running really fast, but I managed to stay with him. I latched onto his wheel, watching and waiting to see where I might be able to find a way around him. On every lap I would try and pressure him in a different spot, just hoping to find the right spot I could get by or to force an error. And with two laps to go, I felt confident I had a plan. I was going to try the same move off turn two in hopes to get enough drive to run it into three harder than he was and get passed him for the sprint to the finish line. As we came into one I set up on the inside and ran it in deep. He knew I was there. I let the bike drift wide on the gas early to get the drive, but as I came off the turn and twisted the throttle the bike bogged. This allowed him to hold his gap and get the drive he needed down the back straight. I stayed in it and was able to stay with him, the power quickly came back. I had one more lap to set him up and try the very same move. The white flag was out and I had my plan. Turn one, run it in. Turn two set up and get the early drive off the turn. Again the bike bogged and he held his run. I would chase him all the way down the back straight hoping for a last-ditch effort to going underneath into 3. But he was prepared for it and closed the door. We crossed the line 1 and two with me a half a wheel behind. A reverse mirror finish from the day before.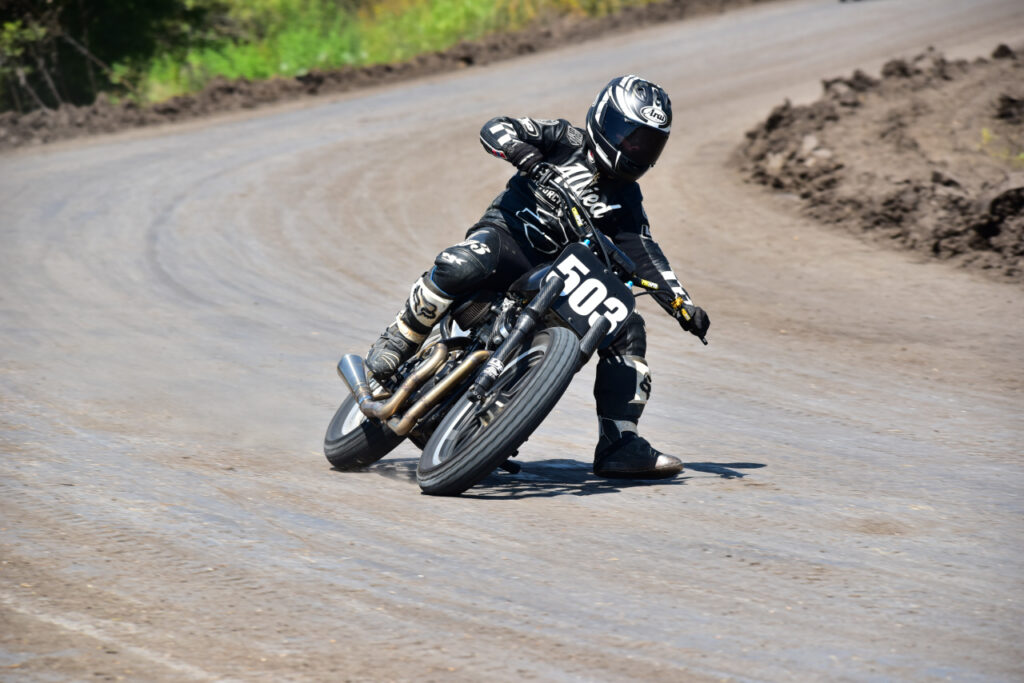 It was a hell of a race and I had a blast. I always love battling with Garrett and he rode the wheels off that bike to hold me off. I'd like to think I could have made the pass if the bike hadn't of bogged but the truth is I am not sure. He was extremely fast.
As we crossed the line and began to slow down we both gave a quick fist pump and high fived. And then I noticed the smoke. My bike was bellowing smoke off the right side, not good. I quickly made my way to my pit and shut the bike down, which is when I discovered it was dumping oil out of the air filter and onto the exhaust. Definitely not good, but it stayed together long enough to make it to the finish so it could be worse.
As far as the 450 main, again I got a good start but made a bobble coming off 4 and went backward from there. It was again a physical battle to ride that bike. It was absolutely exhausting. At one point I hit a bump and had a little wobble and it took everything I had physically to hold it together. Though I did slow a bit as the race went on, I was able to grab a 3rd on the day.
So all in all a great weekend at the track. A much-needed bounce back from the previous round (7 races). We had a ton of fun and we were able to pull off some good results. Once again I couldn't do this without all the incredible people that support me and put in hours of work on the bikes and the program and I cant express my gratitude enough.
And once again I'd be reaching out to them to see what was wrong with the Harley. We've got 2 weeks till the next race, which is back in Waco. So here's to hoping we can get the bike torn down and fixed before then. If there's one thing I know it's that we're sure as hell going to try!