This year Sturgis was a bit different. . .
With all the COVID chaos going on and the schedule shuffling things got mixed up a bit. But the Xtreem Flattrack series really stepped it up and ended up slating 7 races in 9 days at the 80th annual Sturgis Rally. So you know we couldn't miss it!
We went into Sturgis with high hopes, the bike was dialed and the last few practice days on it went great. I felt good, we had been training, practicing, and dialing things in. We were ready.
Race One – Jackpine Gypsies Short Track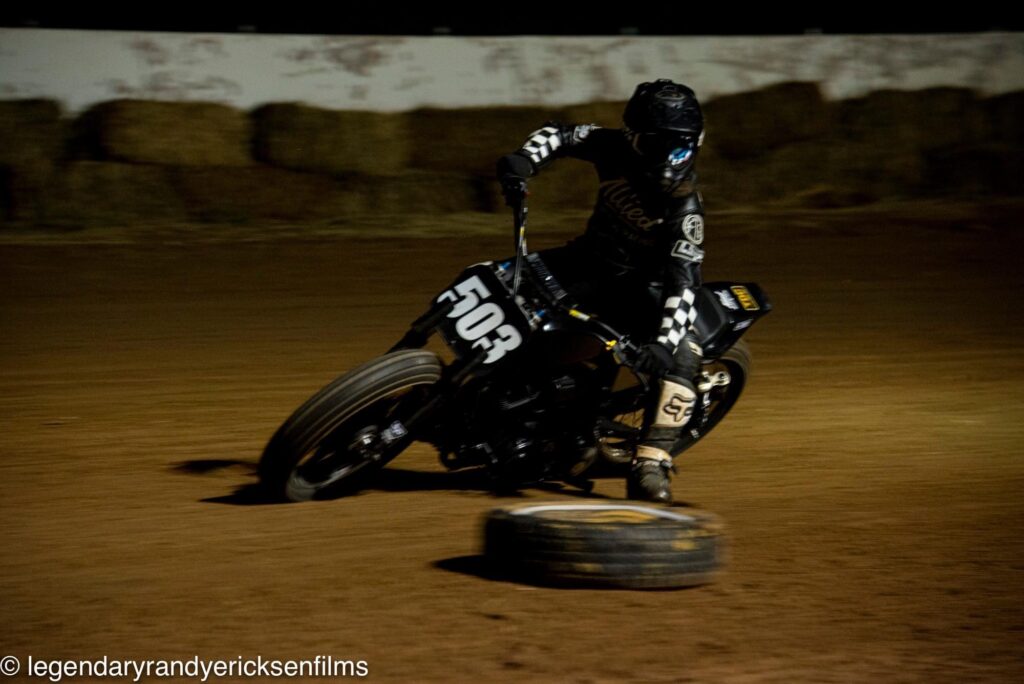 As usual, the track was pretty solid, a smooth slightly banked short track that you can ride multiple lines, multiple styles, and really just find what works on the night.
Practice went really well, felt fast and confident. However, come race time we started to have some clutch issues. When the clutch would heat up the bike would creep with the clutch in. And unfortunately despite our best efforts, this ended up causing me to "jump" the start because the bike was rolling forward with the clutch all the way in. So they put me on the back row and we were forced to try and fight our way through the field. Once I was underway I ran well but was only able to qualify for the second pick in the B main.
In the main we were still struggling with the clutch issues, so I attempted to combat it by standing on the brake to hold the bike back. Which helped for a moment, but ended up causing the bike to stall on the line. So yet again I had to battle from the back. But I was still able to fight my way up for a second place in the B main.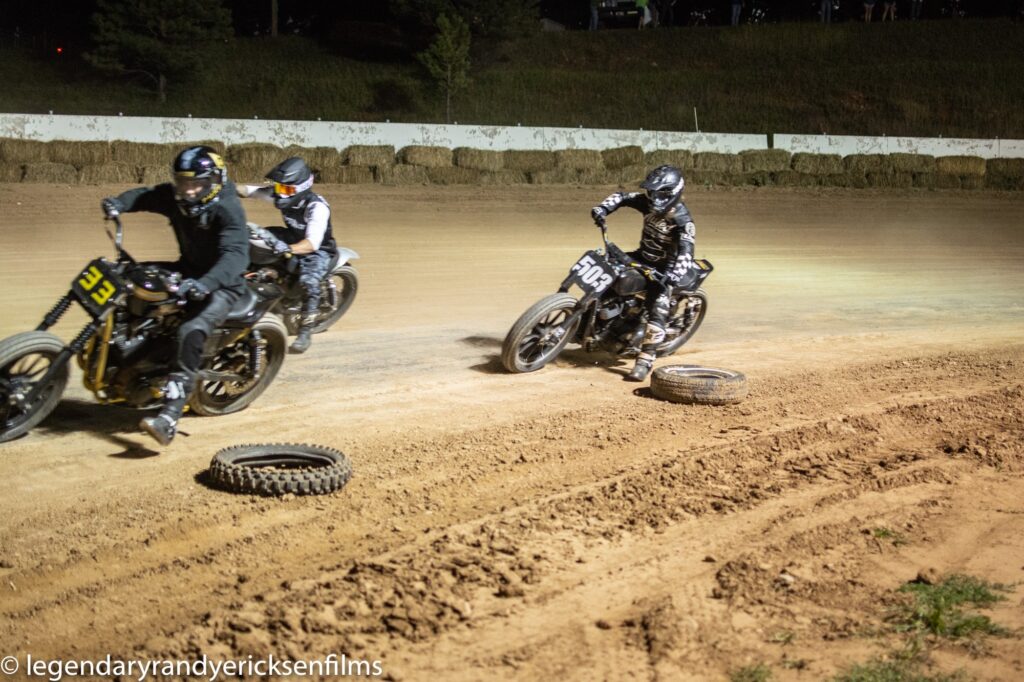 Race Two – Jackpine Gypsies Short Track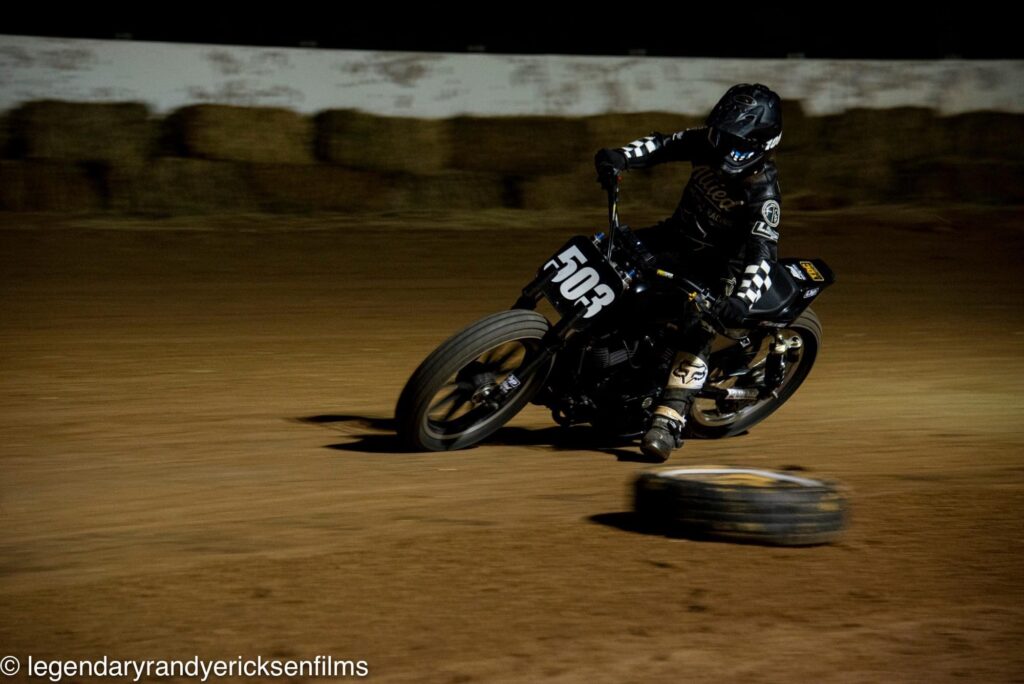 In an attempt to combat/fix our clutch troubles we tore the bike apart to inspect the clutch and find the source of our issues. Upon inspection we discovered the clutch was still in great shape and other than a couple random burrs on the basket everything seemed to be in spec. So we cleaned it up, removed the burrs and put it all back together. I have to call out that the flat track family is amazing here, because three of my fellow competitors were in my pit tearing things apart to try and get me back in the game.
The second race day started out really well. We got off the line good and ended up winning the heat by a decent gap despite 2 restarts. We were on it. I felt great and was riding really well. We were on the front row with the second pick for the main.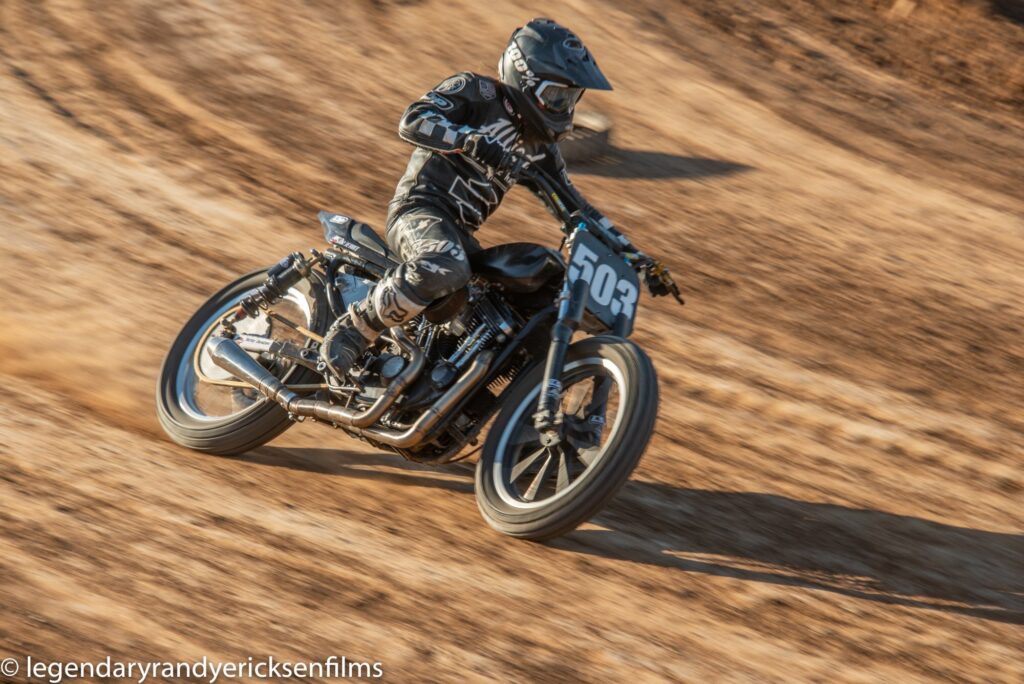 Unfortunately, I spun off the start and ended up in the pack going into turn one. I set up to try and go around the outside and make up lost positions. I ran it in with a rider on the inside and while managing the space between us to make a clean pass another rider never let off into the turn and absolutely cleaned me out. I'm not sure how it all happened but he hit me from the back/outside and basically pulled me over the high side.
I scrambled to not get run over with more riders coming & get off the track as they threw the red flag. This crash though not my fault at all would prove to be a bigger issue than we'd ever hope for. After the red flag and getting back to the bike we discovered the bike was hammered and I would be unable to rejoin the field for the restart, leaving me with last place points in the A-main.
Additionally, I suffered another shoulder injury in the crash that would prove to cause some troubles throughout or Sturgis trip. I was very lucky to have a ton of support on the trip with friends in the pits. I wouldn't even have been able to load my trailer without the constant assistance of friends. So a huge shout out to everyone that helped, especially Cowboy Rob Harkins. Once we were squared away for the night our first priority was getting the bike repaired.
Off Day
Luckily we had an off day between race one and race two. With this off day, we were focused on getting the bike race-ready again. I have to extend a huge thank you to Gary at LightShoe who was kind enough to spend his off day back at the track helping repair the bike. We had to rebuild the brake pedal and get the whole front end of the bike square again. Somehow we managed to pull it off and we were once again ready to race day three.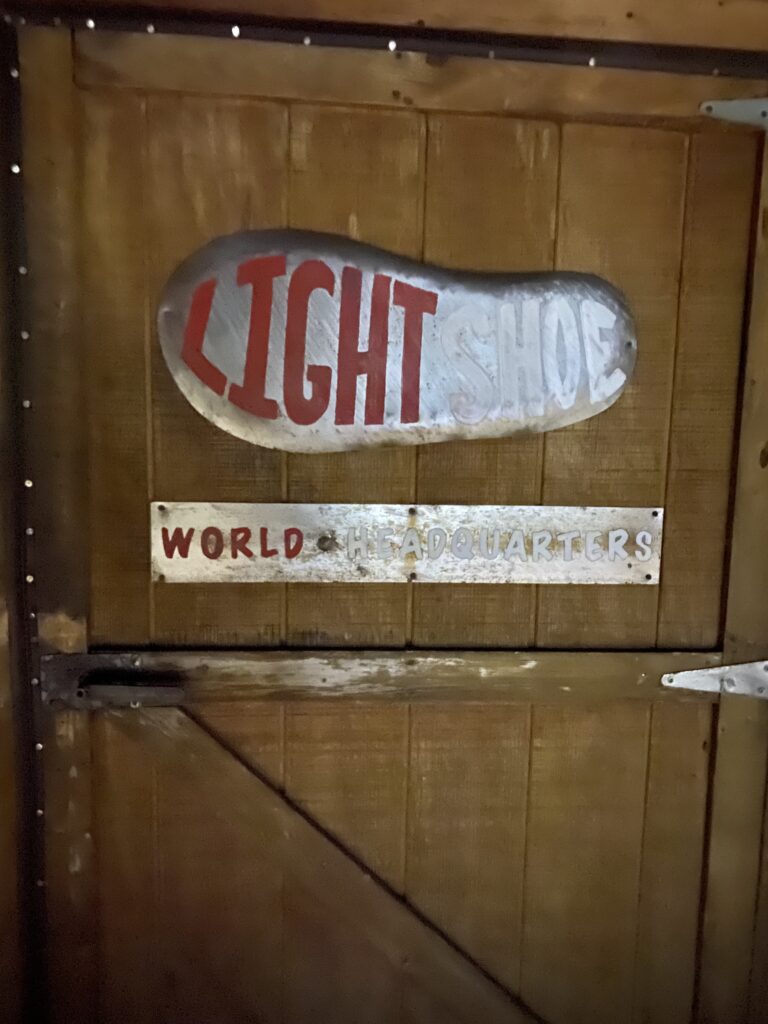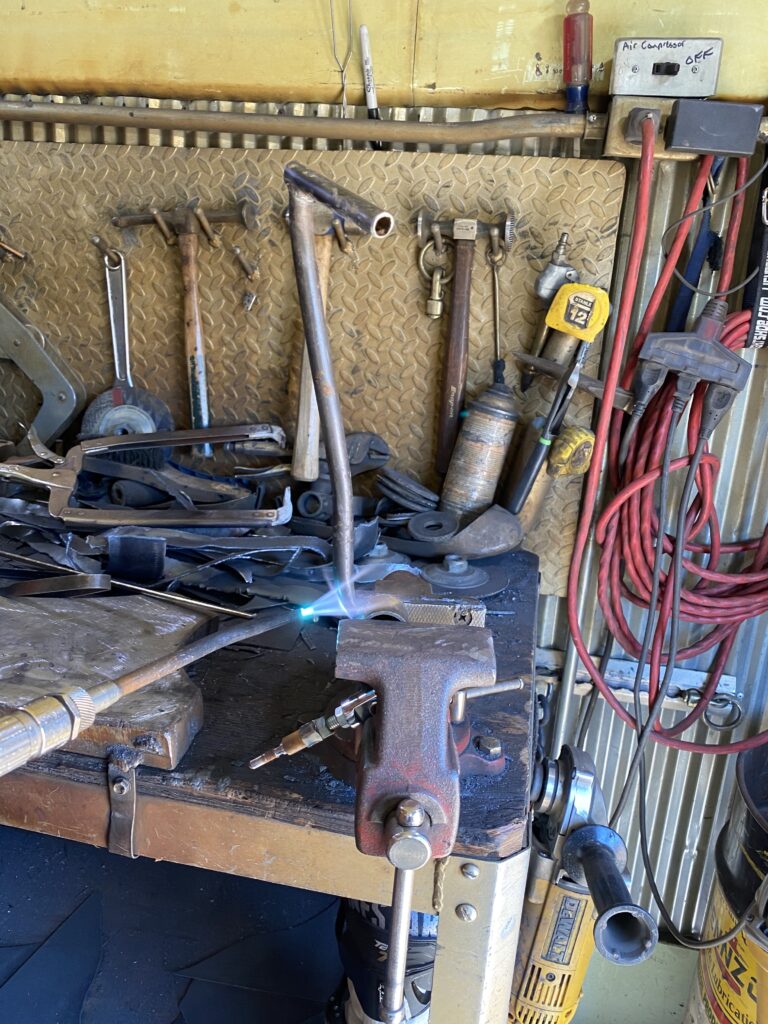 Race Three – Jackpine Gypsies Short Track
Going into the third race I was in rough shape. My shoulder was still in a lot of pain but with all the work and passion that so many had poured into this trip both before and during as long as I could get on the bike we were gonna give it a shot.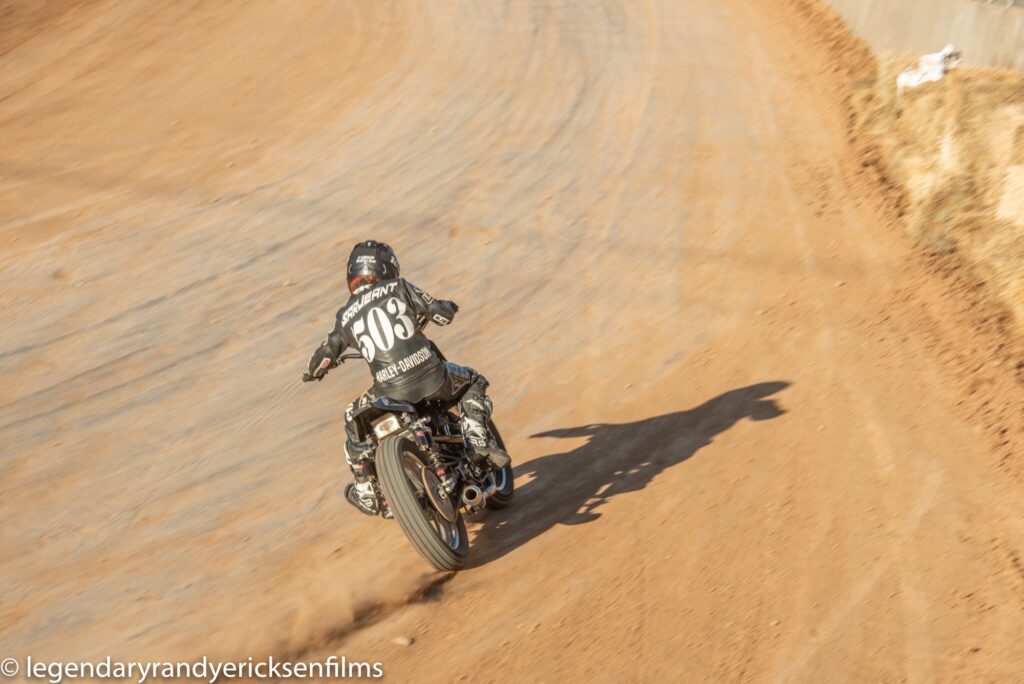 We went out to practice and much to my surprise I was able to wrangle the bike and actually run pretty well. So we were back in the game. . . Or so we thought. In the heat race, we started experiencing clutch issues again. In an effort to combat them I stood on the brake to keep the bike from creeping which worked for a moment but unfortunately stalled the bike (AGAIN) just before the green light. So everyone took off as I sat there trying to get the bike fired up again. Leaving me no choice but to play catchup and try and battle my way into a qualifying spot. Somehow we were still able to claw our way back and get into the A-main.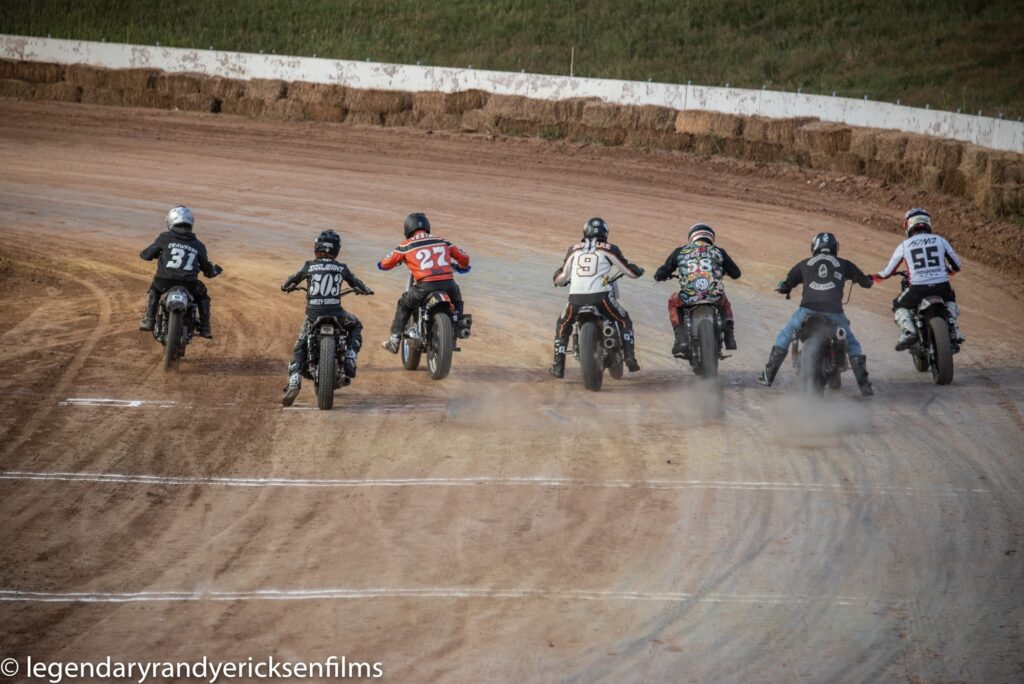 During the main event, we were still facing clutch issues and a second row start. My plan was to line up 6-8″ behind the line to combat the creep. But that wasn't enough and again I was flagged for jumping and got relegated to the back row. We ran the main and tried battling up as far as we could, it was a less than ideal finish but with all the adversity we'd overcome we took our points and set our sites on the Super TT.
We prepped the bike that night to be ready for the Super TT the next day. Installing the front brake and making some adjustments.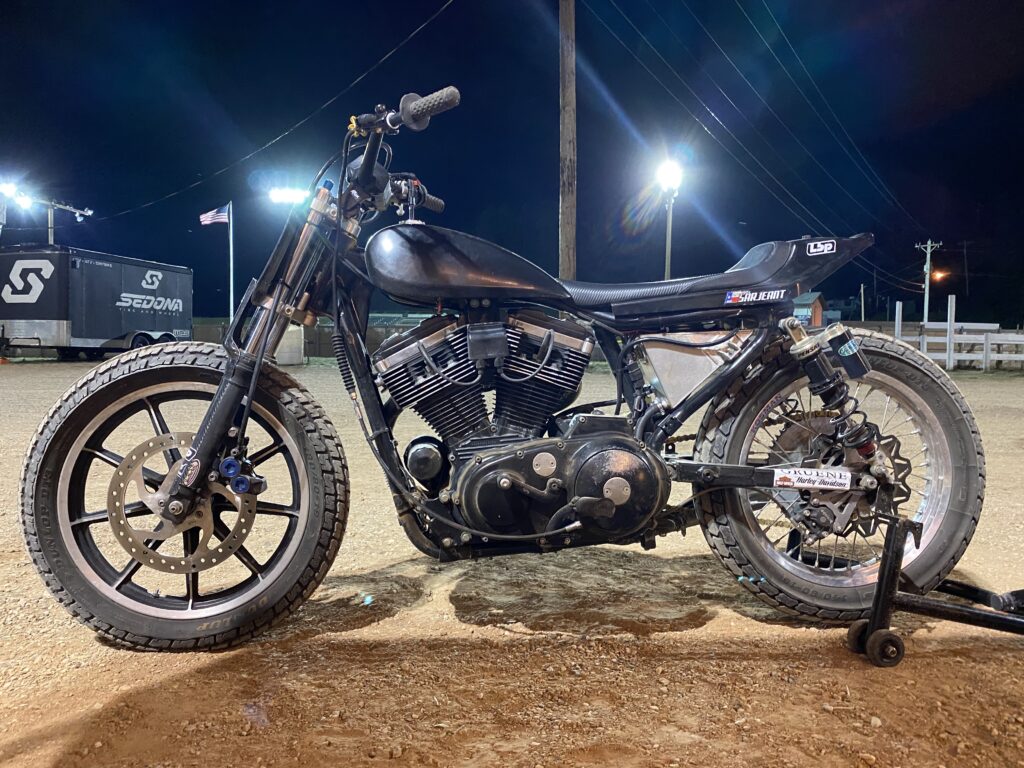 Race Four – Buffalo Chip Super TT
We were coming into the Super TT with high hopes of turning our rough go around, making up some points and coming through the races in one piece (myself and the bike).
But the adventure wasn't over. On the first lap of practice, I came off a jump and my rear tire hit the battery box which broke and sent my battery through the swingarm.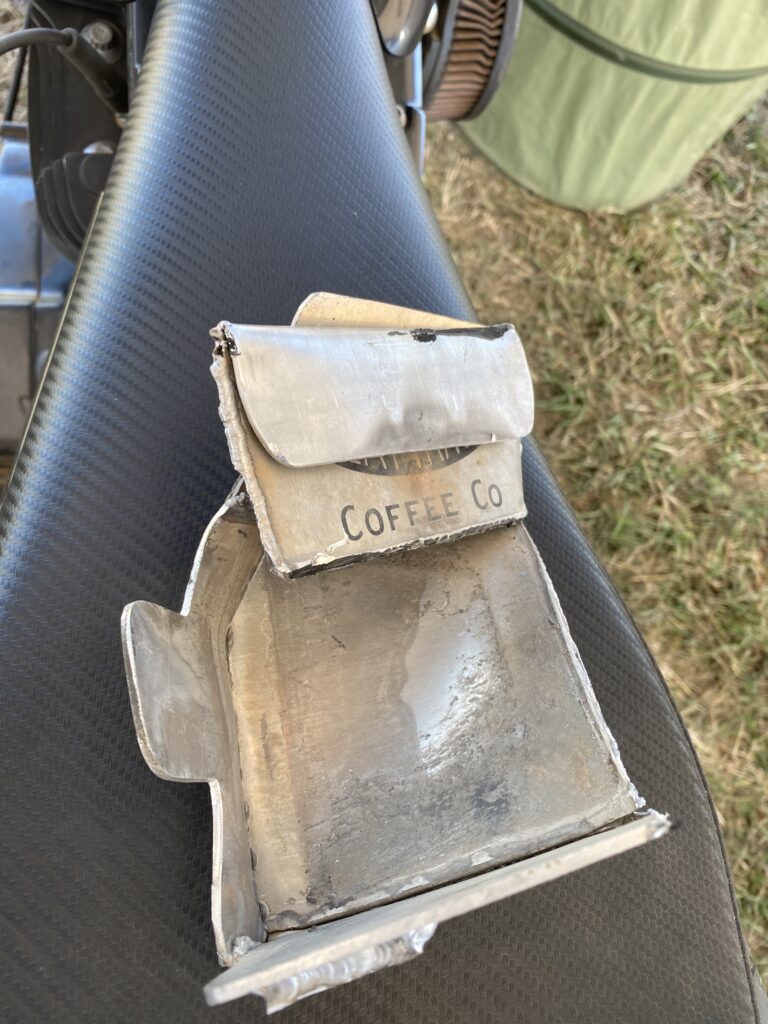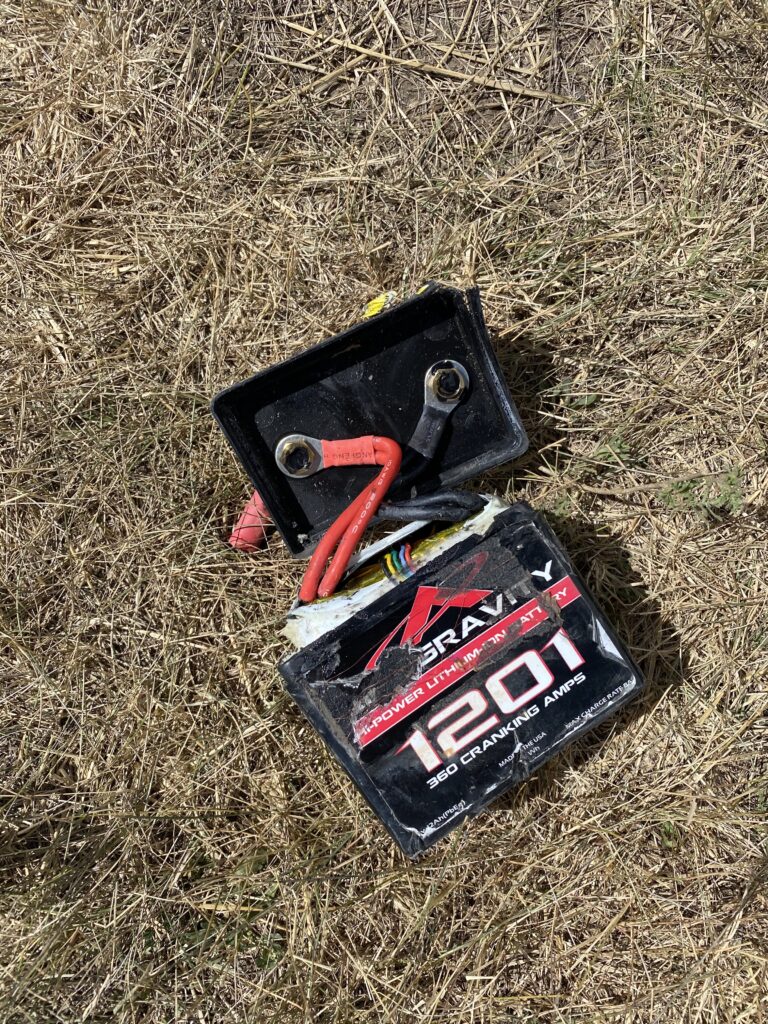 So once again we're back to damage control, and once again the flat track family came through to save my day. Another racer gave me battery, and Gary insisted on building me a new battery box to get me back out there. And some how we pulled it off, in just enough time for me to line up for the heat race. Though now survival and not breaking anything else was my priority.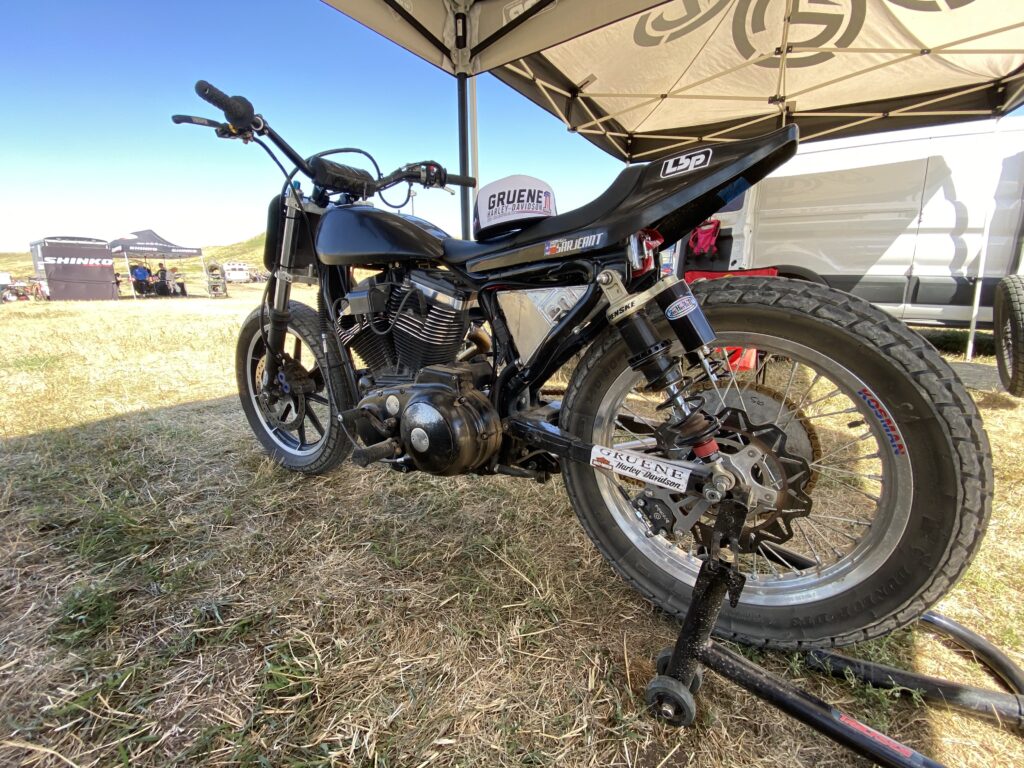 We were in the heat and ended up qualifying for the main event with no practice. It was a rough race. I had never ridden a TT before, especially a Super TT but after a few laps, it was fun. We ran toward the back of the pack but we survived and took home some points.
Race Five – Buffalo Chip Super TT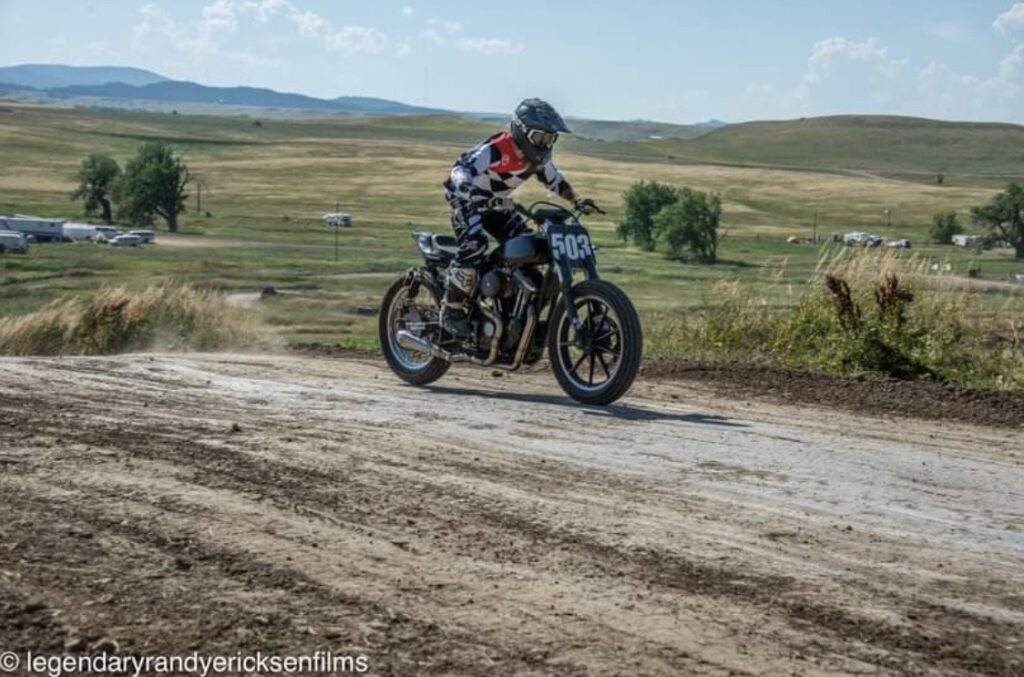 We came into the second day of the Super TT with a little bit different mindset this time around. Our plan was to manage the race well enough to get as many points as we could but not take any extra risks and keep the bike in one piece to get us to the upcoming half mile. That would be my time to shine, we just had to make it there.
This track had one more rock to throw at me though….
I pulled up to staging for our heat race and one of the other racers asked me "Do you really want to run that low of pressure?" Answer, I did not, I had a rear flat with about 1 min till the heat race. So with no other choice I put my head down and tried to mitigate the issue. I hauled ass to the pit and pumped the tire up as high as I could not knowing how bad the leak was and got to the line just before the threw the green flag. Again my goal, get through the race in one pice and make it into the main. Though racing with the idea of a rear flat on a TT track in the back of your head is a tough prospect to power through. We still managed to qualify and somehow the tire didn't go all the way flat.
With help I was able to get the tube changed out and be ready for the main. I was struggling though, mentally I had been through so much this week already and the outcomes were not what we had expected.
The main event time came, and we were still focused on getting points and moving on. During the race, I finally started to find a little comfort and was able to pass my way up to mid-pack. But on the last lap 2 turns from the finish I almost laid it down, and despite catching it I didn't have the strength in my injured shoulder to stand the bike up and get moving before being passed back.
Race Six – Rapid City Half-Mile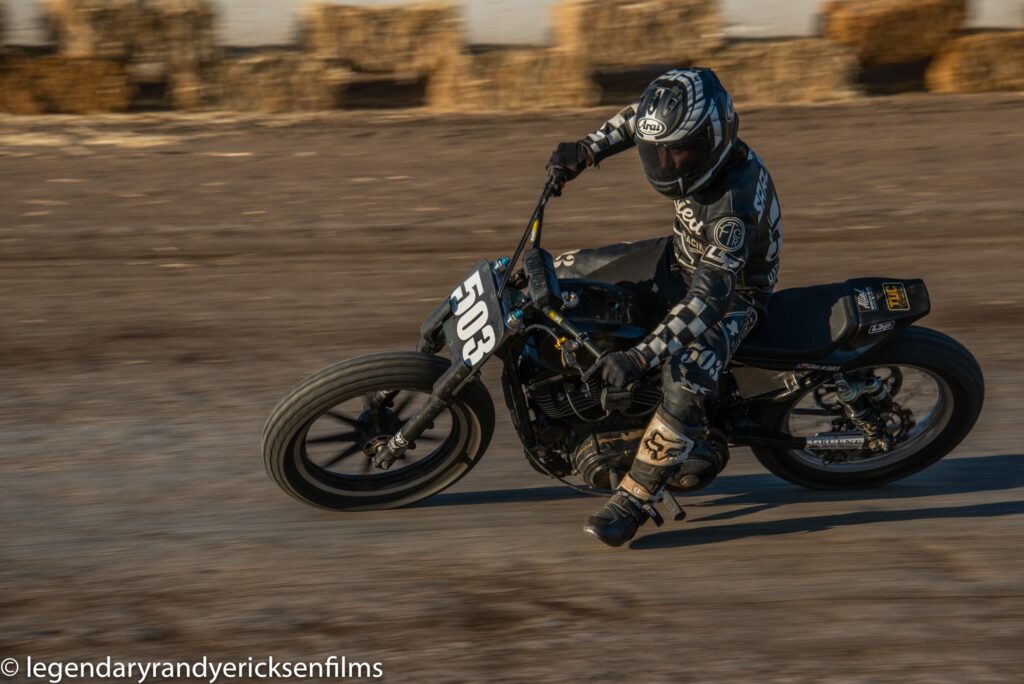 The Rapid City Half Mile was the track and races, that I was looking forward to the entire trip. Getting to battle it out on an American Flat Track stop that's a grooved half mile was not only up my alley but also an amazing opportunity. And with the struggles we've had, we came into it with high hopes for some redemption.
We knew we had to take a different approach here. The speed would be higher and our approach would need to change to better suit a fast groove style track. So we set out to get the bike dialed in. We spent the day dialing things in making adjustments to gearing, suspension and changed our tires out for a new set to improve traction. We had a hell of a time getting the front tire to seat the bead but we were optimistic on the day weren't gonna let it beat us. Eventually, we got the bike squared away and sat back for a bit to rest before practice.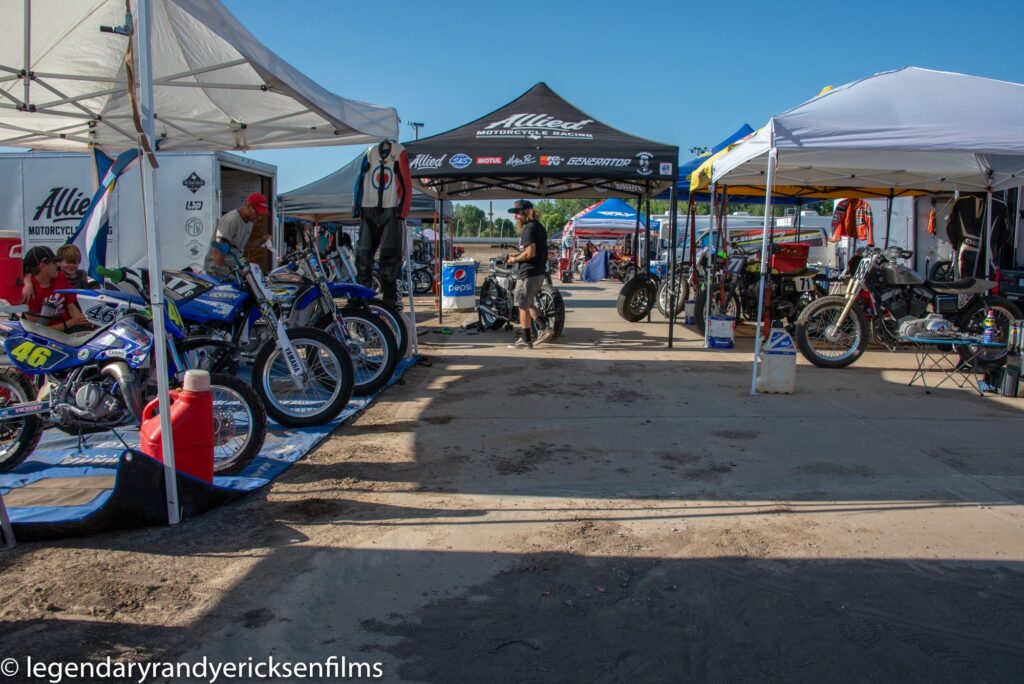 Yet again, we were forced to face a bit more adversity. We made it through the riders meeting and gearing up, we were all set. But about 10 min before practice we realized that the front tire that had given us so much trouble to get squared away was flat. I can't make this stuff up. So once again I put my head down, graciously accepted help from my fellow competitors and we tore the wheel off to see what caused the flat. We came to find that the tube had actually split at the seam. No pinch, no sticker in the wheel, or a bur, the tube just failed. None the less, we tore it out of there and someone gave us a tube (as I had now used all of mine with the previous flats and tire changes) and we got it back together.
We got out to practice about 1/2 way through the session and felt really good. The track was a little bit one lined and had a bit of a loose spot coming off of two that'd cause the bike to slide and hop enough to pucker you up but it was manageable. I was running well, feeling comfortable, and finding speed.
We had a good run in the heat race, making a few passes. I even ran down a couple guys and made a last second charge for a pass at the line. I was feeling better, we got through the heat race and moved onto the main event.
I got a poor start with a bit of wheel spin and tried to just put our head down and pick people off. Then just a few laps in I was catching another rider and decided to run it into turn one deep, try and out break him and go underneath. It was all going to plan when he pushed wide and I was coming fast and was already lined up to go underneath when he suddenly turned down the track and almost sawed my front wheel off causing me to need to check up. As he blew across in front of me I still had the line and quickly got back on the gas to now go around him on the outside. But again as soon as I made the move he cut back up the track and almost ran me up into the wall coming off of two. I couldn't believe it. Twice in one turn this guy almost took me out, and despite me having more speed I still hadn't made it around him. These antics went on for another lap and a half, and finally, I opted to sit in and hope he'd make a mistake on the last lap rather than get crashed out. Mentally after all the things, we'd overcome I just didn't have it in me to risk it all for the pass. We finished the day mid-pack as a result and worse than the result I was disappointed in myself for not taking the position and moving on.
Race Seven – Rapid City Half-Mile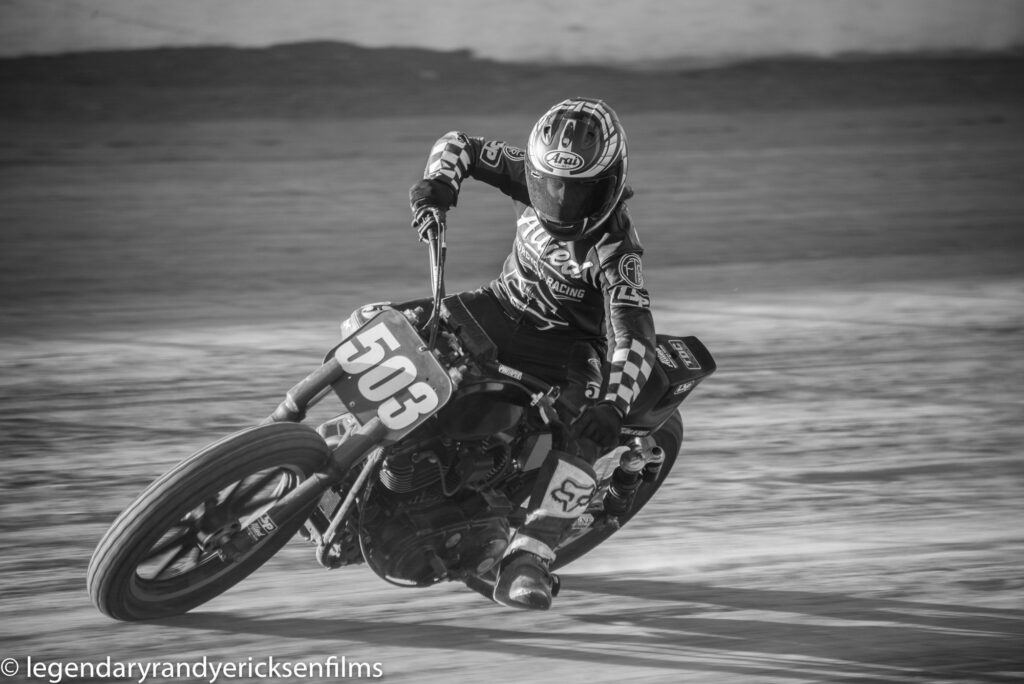 We had come into this track with high hopes of redemption, some semblance of a success in the form of a decent finish to not only get passed the struggles but to end the two weeks of racing on a high note. This redemption would not come unfortunately.
After the stretch we had I chose not to touch the bike between the last race and this one. I just wanted one day that we didn't have to turn wrenched up to the start of the race. The bike was in one piece and I wanted to stay that way.
So we ran it. We went out for practice and the track was a lot better. We were finding traction and with that more speed. I could get on the gas much sooner than I had and sooner than most of the guys were. This was all promising.
We went into the heat race with high hopes yet again, and we started having clutch issues yet again. Luckily we didn't "jump" this time but I didn't get a great start either. I made a few passes and ran well. We were able to hold onto a decent run and get into the main with a plan.
We would start a foot off the line and let the bike creep if it wanted to, no big deal let's do this. Now what I hadn't thought of is that all the rubber was laid down on the line a bikes length from the line, not a foot behind that. So they threw the flag, I dumped the clutch, my tire spun and the field lurched ahead. A bad start yet again, and yet again I just tried to put my head down and go to work. I caught the pack and did everything I could to work my way up, but I have to admit by this point yet again my head just wasn't in it. I had the speed and was coming off the turns faster than the two guys ahead of me. I was getting on the gas sooner and would drive off turn four with way more speed, but I just couldn't find a hole to get by before we'd swing into one. In hindsight, I can say that the room was probably there, and I think mentally I just wasn't. I should have run it in, pushed the issue, and made them work for it but instead, I found myself racing up on them and letting up. Mentally I was drained. We yet again finished way behind where we expected to be and below the speed we were capable of running.
All in all, it was a very rough two weeks of racing. With an injury that was persistent throughout the trip, all the bike issues and struggles we had I just struggled. Probably the worst group of races I've ever had. We battled through issue after issue and tried to stay positive and keep at it, but we were defeated. But even with all of that, we had a really good time with some amazing people. People that didn't hesitate to put their stuff aside to help me, people that gave me parts even though we were competitors. People that put off working on their stuff or resting before a race to make sure I made it to mine. I can not express how grateful I am to all of these folks, flat track is truly a family. If you're not there I can't really explain it to you but for those of you that are, you know what the Flat Track Family is like and its that family that makes this such an amazing sport.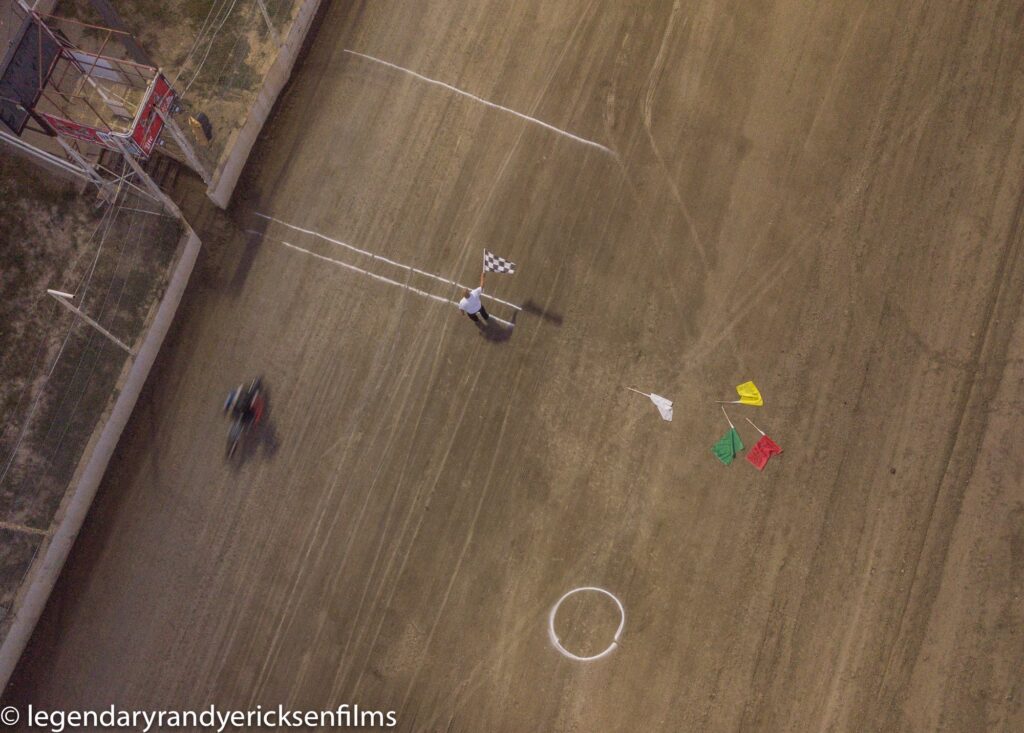 See you next year Sturgis.